Faberge Egg
Cotton and metallic yarns, wire armature
Inspired by the Faberge "Spring Flowers" egg given by Tsar Alexander III to his wife, Maria Feodorovna, in 1890, this knitted egg actually opens to reveal a small basket of flowers, just like the original.
It was a challenge to make two nesting shapes of the same size, plus padding, and to figure out how to make them open and close. Unlike "Audrey II," the egg and base have a wire skeleton to form the shape.
12" high.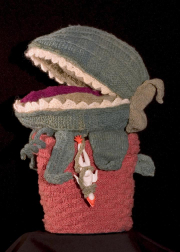 Audrey II
Handspun wool, hand-dyed with natural dyes
Remember the wonderful musical "Little Shop of Horrors"? Audrey II is the mean, green mother from outer space who takes over the shop.
I challenged myself to shape Audrey without relying on anything but stuffing, and I almost made it. In the end, I added a bent coat hanger to make her mouth stay open, and some florist wire around the edges of her leaves so they would curl menacingly.
You can remove the stuffing from Audrey's flowerpot and wear her on your head -- if you dare.
18" high.
Artist's Statement
Many of my favorite projects have been responses to challenges posed by someone else. The two items in this exhibit, for instance, were both developed for the annual contest at Meg Swansen's Knitting Camp in Wisconsin. "Audrey II" was entered under the theme of "flora and fauna" (I figured a carnivorous plant was both) and the "Faberge Egg" under the theme of "holidays."
What else influences my knitting? There's laziness. I love to sit on the sofa, knitting and trying new ideas or techniques. I can sit for hours, messing with variations on an idea, so I don't have to get up and do housework. Then there's contrariness. Every time someone tells me, "How nice, my grandmother used to do that," it makes me so cranky that I want to knit a mean green mother from outer space. And who says knitting has to be flat? There's a real challenge in figuring out how best to deal with the fact that yarn is soft, and knitted items want to flop.
I've reached an age when taking myself too seriously is no longer an option. From now on, I'm just having fun. Messing with yarn is the most fun thing I know.
Brief Biography
My mother tried to teach me to knit as a child, but I wasn't truly dedicated until I needed a stress reliever for a demanding job. Once started, I never stopped. I've been a regular attendee at Meg Swansen's Knitting Camp, and wouldn't dream of missing the Maryland Sheep and Wool Show.
In many years as a management consultant, I've knitted my way across five continents, always alert for yarn and for other knitters. During several years in Asia, I discovered Japanese knitting patterns. Later I prepared the Japanese language section of Margaret Heathman's book Knitting Languages, and wrote an article in Knitter's about understanding Japanese knitting patterns. Since then, I've published over a dozen designs in various magazines and books. I'm most interested in unusual construction methods. I knit, spin, dye and sew in Bethesda, MD, and have started thinking that a couple of llamas would be great to control the underbrush in the back yard. My wearable works can be found at the Potomac Craftsmen Fiber Gallery, Studio #18 in the Torpedo Factory, Alexandria, VA.
Here are a few more photos of my work.